Congratulations to Peggy Orbon on making the FAV15% in the June 2018 BoldBrush Painting Competition!

Painting entitled "Backlit" Pastel 9" x 12"
"Gilman Labyrinth" was a

finalist

for the

Master Class in the Art Muse Contest. Congratulations to Richard Prather!
CONGRATULATIONS TO RICHARD PRATHER. HIS PAINTING "LIGHT AND STONE" HAS BEEN JURIED INTO THE 2018 NATIONAL JURIED EXHIBITION OF TRADITIONAL OILS TO BE HELD THIS SUMMER AT THE STEAMBOAT ART MUSEUM IN STEAMBOAT SPRINGS, CO.
Congratulations to Kathleen Riley! 1st Place Award "City View at 6am" & Best Landscape Award for "Hidden Vista" at the Boulder Plein Air Festival.
Kathy Falla Howard received First Place in Pastel at the Scottsdale Artists School "Best & Brightest" show and sale Feb 9th. "Georgia's Room" 12 x 16
Lee MacLeod received an Honorable Mention Award at the SFPAF for his paintings entitled "Afternoon Display", 12" x 9", oil.
"Casa Grande Color" oil 8" x 10" by John Meister won an Honorable Mention at SFPAF (Santa Fe Plein Air Festival).
"Sweet Blessed Rain" Pastel 11" x 14" by Tobi Clement received an Honorable Mention award at the SFPAF(Santa Fe Plein Air Festival.)
Terry Chacon received an Honorable Mention for her painting entitled "Wetlands", 12" x 12", oil at the SFPAF (Santa Fe Plein Air Festival).
Congratulations to Richard Prather. Sinuosity, 9" x 12" (featured below) won an Award of Excellence in oil at SFPAF.
Nita Harper takes 1st Place in the Laguna Plein Air Painters Association (LPAPA) "Urban Landscapes" show!!
Damien Gonzales was interviewed my Oil Painters of America and written up in Southwest ART.
OPA included his painting in their online write-up for the upcoming show in Dallas.
Peggy Orbon recently received second place in the pastel/ drawing division in the Scottsdale Artist School's Best and Brightest juried show. This painting below "Pot Shadows" 11" x 14" Pastel, will be on exhibit through February 2016.
Congratulations to Peggy Orbon. Her painting below entitled "Last Light" won third place in the FASO Boldbrush painting online contest.
Congratulations to Damien Gonzales. He has been invited to exhibit two of his paintings at the:
International Artist Invitational Exhibition
Event Dates: 6/3/2016 - 7/29/2016
Reception:

6/3/2016

5:00 - 8:00 p.m.
717 Goldsborough Street
Easton Maryland 21601
Annual invitational show featuring Carolyn Anderson, Matt Smith, Jennifer McChristian, John Michael Carter, Damien Gonzales, Derek Penix, Huihan Liu, Barbara Jaenicke, Anne Blair Brown, Nancy Franke, Robert Johnson, Tibor Nagy, & Peter Van Dyck.
Damien Gonzales will be a part of a Two Man Show in Taos this July, "Honoring the New Mexico Landscape".
Janice St. Marie's painting entitled "Midafternoon Monsoon Clouds"
was accepted into the Rice Gallery of Fine Art 2016 Juried Plein Air Gallery Exhibition.
Article on Karen Halbert, published in the October Newsletter for PAAC (Plein Air Artists of Colorado) . (See Below)
Get to Know Our Members
By Tracy Haines

This month's featured artist: Karen Halbert
http://www.karenhalbert.com/


Karen strives to transform the beauty of mathematics into her art, utilizing her knowledge of areas such as dynamic symmetry, fractals and chaos theory. The "hidden harmony" of Karen's work is shown in her cloud fractals, wave patterns and stream flows as well as cliff striations and tessellations. Karen grew up in the West, but moved East as an adult to attend college and to pursue a career as a college professor of mathematics and computer science, and later as a Wall Street executive. She eventually settled in Woodstock, New York to fulfill her life-long dream of being an artist, but ultimately was drawn back West to the artist-rich town of Santa Fe. Karen continues to use her computer skills as a volunteer Website Administrator for the Plein Air Painters of New Mexico.

Tracy Haines (TH): When did you first become interested in art?
Karen Halbert (KH): As a child, I loved to draw and paint and I won the high school award for art (I still have the pin in my jewelry chest). I chose another passion, mathematics, as a more practical career.

(TH): Where do you sell your work? ( galleries, festivals, internet...)
(KH): I am represented by the Purple Sage Gallery in Albuquerque and am planning a featured artist show in December 2015, titled, "Hidden Harmony". Two of my paintings will be at the New Mexico Art League in October in the "Biologique" exhibition. This exhibition features art inspired by nature with concepts such as the "Golden Mean", Fibonacci sequence, π (Pi), fractals, and mathematical harmony underlying the works. My works sell through the gallery and exhibitions sponsored by PAPNM and PAAC as well as through my website, www.karenhalbert.com.

(TH): What is your biggest challenge when painting en plein air?
(KH): My biggest challenge is simplifying the scene before me. Allowing my mind to play with mathematical concepts helps me in the process.

(TH): Briefly describe your most interesting or funny plein air experience.
(KH): This is really an experience that is an aftermath of plein air experiences: Six years ago while walking my dog in Santa Fe, I encountered a woman who took one look at me and immediately exclaimed, "So, you are a painter!" "What do you mean?", I responded. She pointed at the paint on my clothes (I do find that paint gets all over me especially when I paint outside) and my plein air hat. As a (plein air) painter herself from Cape Cod, she was completely aware of the significance! That woman is now my best friend. Art and painting still remain our favorite topics of conversation on our daily walks with our dogs, Chili and Caleb, both red standard poodles.

(TH): Please tell me about an interesting non-– art aspect of yourself that people might be surprised to know.
(KH): Some people might not know that I was a computer programmer, and then the manager/executive on software projects that are still being used to drive trading on the floor of the New York Stock Exchange.
Another, perhaps more interesting fact, is that I lived in Honolulu in high school and return frequently. I have painted in Molokai at the Leper Colony and Honolulu and plan to travel to the North Shore of Oahu to paint at the end of this year for a few weeks. I will look for the hidden harmony in the waves, the cliffs and the clouds.

(TH): What is your long-term goal as an artist?
(KH): I continue to work to improve my skills and to impart any knowledge that I have been acquiring in small classes. And I will continue to enter competitions to hone my skills.

(TH): Any tips on tools, techniques or gear for the budding plein air artist
(KH): Simplify the landscape: look for the big shapes and worry about the details only at the end, if at all. Keep your equipment light and have it ready at all times for that moment of inspiration.

(TH): What advice do you give an artist just starting out?
(KH): Use solvent-free materials; the health hazards of solvents are well-known. I recently acquired this as my motto, and I am teaching a class in solvent-free oil painting in Arizona this winter. Also, work with a limited palette, a cool and warm of each primary for a more harmonious painting.

Congratulations to Nita Harper!
This is the painting that will be in the OPA National Juried Salon of Traditional Oils
Beverly McNeil Gallery, Birmingham, AL
opening Reception and Awards, October 8
, 5:30-8
"The Summer House" oil 20x16
Congratulations to artist Damien M. Gonzales. His painting "Isla Sandia" received the Best of Show Award at the Plein Air Santa Fe Festival & Exhibition.


"Around the Bend," by Richard Prather, 2015, oil, 9 x 12 in. Award of Excellence in Oil or Acrylic at Plein Air Santa Fe Festival & Exhibition.
"

Mummy Cave - Cañon del Muerto

" by Damien M. Gonzales


received 2nd Place in Oil Painters of America Spring Online Showcase.
Congratulations to Purple Sage Gallery artist Marilyn Drake. Two of her paintings were accepted into MasterWorks, plus two more exhibits.
Congratulations to Purple Sage Gallery artist Janice St. Marie. Four paintings below juried into MasterWorks 2015.
FASO Featured Artists: Artist Damien Gonzales
by Carrie Turner on 12/16/2014 12:42:48 PM
This article is by Carrie Turner, editor of FineArtViews. During her tenure as editor, FineArtViews has been mentioned or referenced by The Huffington Post, MLive, WorldNetDaily (WND), artnet, COMPANY, American Artist Magazine, ArtBizBlog, The Abundant Artist, EmptyEasel and many other publications and blogs. FASO Featured Artists (FFA) is a regular blog series on FineArtViews. Art critic Brian Sherwin is a consultant for the FFA series. The FFA selections are featured prominently on theFineArtViews newsletter -- and are shared with over 26,240+ subscribers. You can read about other recent FASO Featured Artists by clicking here.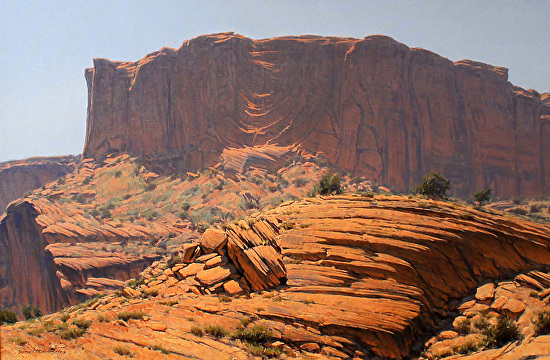 Tseyi Canyon by artist Damien Gonzales
(Oil on Canvas)
Artist Damien Gonzales divides his time between painting outdoors and in the studio. Damien is an oil painter -- focusing primarily on landscape painting. According toSouthwest Art magazine, Damien has been attracted to landscape painting ever since he visited a Santa Fe gallery and viewed a stunning canvas depicting a large rock wall at the bottom of the Grand Canyon with the Colorado River flowing along its base. He notes that he enjoys representational works and aspects of impressionism that impart a sublime quality to a painting.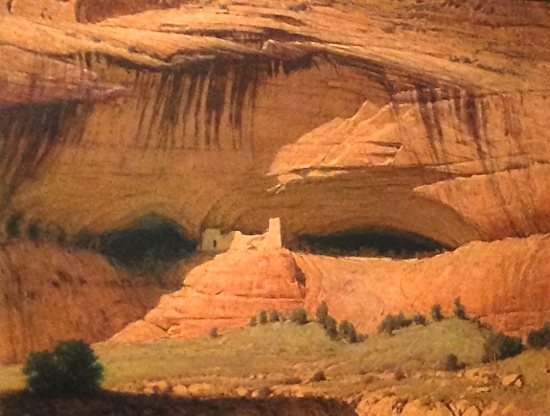 In the Shadow of Mummy Cave by artist Damien Gonzales
(Oil on Mounted Linen)
Gonzales has stated that he enjoys the spontaneity required to quickly capture the essence of a location-- referring to, "The most accurate color and value information possible and the other transient elements that are present only for an hour or two, at most." Damien notes that paintings completed in the field are sometimes framed and shown as they were after leaving a location -- others are used to produce additional paintings back in his studio.
Art critic Brian Sherwin, Editor of The Art Edge, offered some thoughts about Damien's oil landscape paintings. Sherwin said, "Damien's plein air and studio works capture the majestic power of nature. He has an eye for awe-inspiring locations... areas that reveal the intricate beauty of the natural world. Each painting reminds us that we should not take the beauty in our world for granted."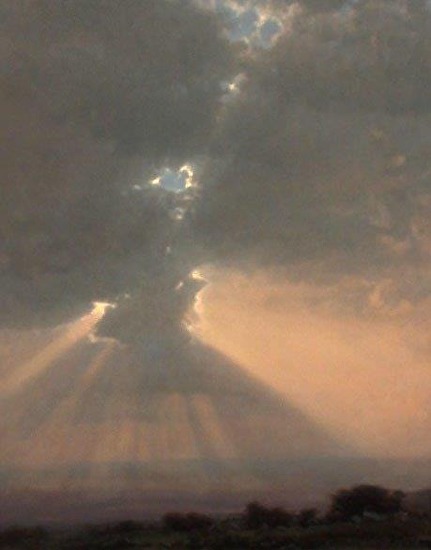 Desert Sunrays by artist Damien Gonzales
(Oil on Panel)
Artist Damien Gonzales is currently represented by Purple Sage Gallery and Total Arts Gallery (click here for more gallery information). You can learn more about Damien Gonzales and his landscape paintings by visiting www.damiengonzales.com.
[Services:
FASO: Want Your Art Career to Grow? Set up an Artist Website with FASO.
FineArtViews: Straight talk about art marketing, inspiration - daily to your inbox.
InformedCollector: Free daily briefs about today's finest artists in your inbox.
BoldBrush Contest: Monthly Online Painting Contest with over $12,500 in awards.
Daily Art Show: Daily Show of Art that reaches thousands of potential collectors.
Backstory: About Clint. Email Editor. Twitter. Republish. ]
Congratulations to gallery artist Damien Gonzales!!
1st Place Signature: Damien Gonzales "Bobcat Trail"
PAAC's 18th Annual National Juried show on Saturday, August 9th.
Marilyn Drake has been selected as a Local Treasure by the Albuquerque Art Business Association...read more...click link below.